TB Race Head for 88cc Bore Kit – All Models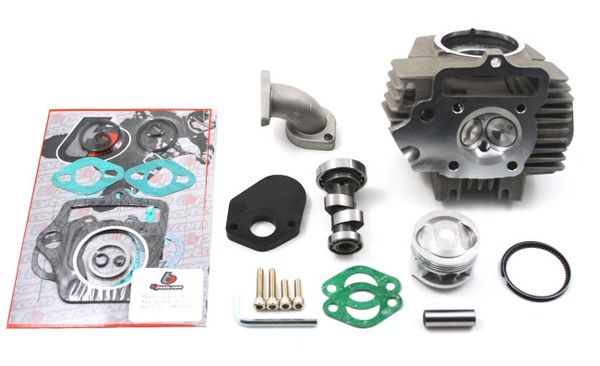 TB Race Head for 88cc Bore Kit – All Models
***NEW**Race head for 88cc (52mm) bore kits
– NEW Race Head – Larger valves (now
25/22mm) and better flow for increased
performance. Also has bigger cooling fins. Includes all necessary parts and
comes assembled!
– 52mm piston with rings, pin, & clips. 
– High performance race camshaft (for the Race Head only)
– Head gasket kit.
– Intake kit for the
race head – will match the race had much much better than intakes intended for
the stock head.
6/26/06 Our Race
Head has been updated for even more performance!  It now has 25/22mm valves
with better porting/flow.  We also kept the combustion chamber the same
size and changed the angle of the valves slightly. This kit is for upgrading 88cc bore kits with a stock head
to the Race head. You should have your existing cylinder honed (unless its new)
prior to installing this kit. 
We recommend purchasing a high volume oil pump kit.

Installation Note: It will save a lot of time and
effort if the oil pump is installed while installing the bore kit (requires
cylinder removal).