TB Stock Head, 88cc Bore Kit & 20mm Carb Kit – All ATC, TRX, & CL70s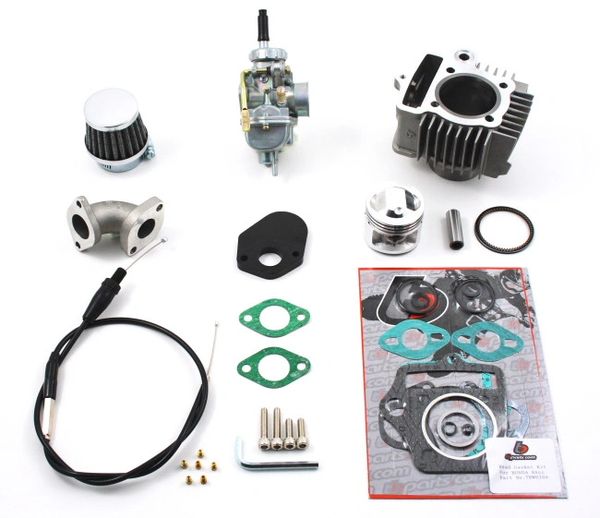 TB Stock Head, 88cc Bore Kit & 20mm Carb Kit – All ATC, TRX, & CL70s
88cc Big Bore kit and 20mm Carburetor kit Kit:
– Lightweight aluminum cylinder with steel sleeve
– Cast in mounts on cylinder for aftermarket skid plates
– Oversized cooling fins on cylinder for efficient heat dissipation
– High compression 52mm piston with rings, pin, & clips
– Head gasket kit
– 20mm Performance carb assembly. Includes: 20mm carb, intake, heatstop, gaskets, mounting hardware/wrench, air filter and long throttle cable
– NEW! 12/08 – a main jet kit is now included too!
Easily double your power and fun with this quality, yet economical bore kit!!
We recommend purchasing a high volume oil pump kit.
Installation Note: It will save a lot of time and effort if the oil pump is installed while installing the bore kit (requires
cylinder removal).
See the Performance Info section for additional information on our performance parts.